Executive Potential Publications
Whether you are reinventing yourself, wanting to focus on what will make you successful, or strengthening your skills, these items are for you!
What ARE They Thinking?

 

Branding I, Inc. 
A 3 step process creating a crystal clear message about who you are, what you do, and why you do it.
Take that first step in deliberately creating your unique personal brand that communicates
Your story of what others need to know about you
Creating a consistent message of what you offer
Communicating your story in a succinct way that engages others
Whether it's inventing or reinventing your brand, these simple steps will help you build the brand you want others to recognize.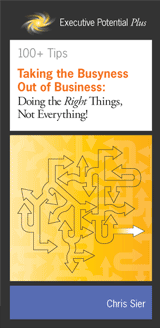 100 Tips Taking the Busyness Out of Business
Doing the Right Things, Not Everything!
Just getting it done doesn't guarantee success, being busy doesn't guarantee success; focus and action on the right things are what leads to success. To formulate a successful business strategy that will help you achieve amazing results, this booklet offers you over 100 tips that will enable you to find your right things on which to focus your attention and energy.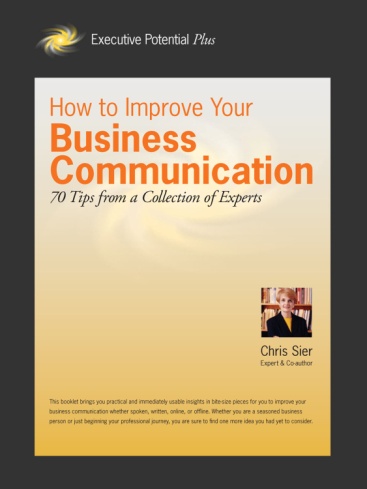 How to Improve Your Business Communication 
70 Tips from a Collection of Experts
This booklet brings you practical and immediately usable tips to improve your business communication skills in bite-size pieces whether spoken, written, online, or offline. Whether you are a seasoned business person or just beginning your professional journey, you are sure to find one more idea you had yet to consider.
Each author in this booklet offers tips from his or her expertise on topics such as how-to common business strategies to develop your Company's website content, negotiating, developing personal excellence, and leadership qualities. Find all of that and more right here in this booklet.