"Be so good they can't ignore you."
-Steve Martin
"The goal here is to get more done while expending less time and energy."


—Angela Watson
"The world we have created is a product of our thinking; it cannot be changed without changing our thinking."

— Albert Einstein
Welcome to Executive Potential Plus

My name is Chris Sier, and my mission is to support you in becoming the person you want to be, discovering your untapped potential, and achieving those challenging goals you thought were not possible or difficult to attain.
Over the span of my 25 plus year career, I have experienced many of the challenges my clients want to work on, such as (to name a few):
Achieving results while meeting difficult deadlines
Overworking from overload
Handling sticky situations with clients and internally with teams
Grappling with career choices
Being let go because of a work force reduction
I have had many successes and some failures too.  I learned the hard way that to succeed, I must be clear on who I am and what I want to achieve. I also learned that failures teach important lessons, which helped me become a better, more successful version of myself. I want to make that easier for you by sharing my knowledge, experience, and resources, because coaching is a proven method in enhancing a person's relationships, effectiveness, productivity, and overall work/life balance.
As a Professional Certified Coach, I have coached many Executives, Leaders, Business Owners, and Individuals in a variety of areas, such as:
Developing a competitive advantage by maximizing potential and creating a consistent brand of who they are, their value, and why it matters
Developing and honing leadership abilities
Managing overwhelming change in a tumultuous and constantly changing business environment and within their personal lives
Implementing new productivity habits in order to work less and produce more
Achieving career goals through strategically managing their career
Handling unexpected career transition and utilizing job search strategies
Not sure if coaching is for you?
This assessment will help you determine if you are ready to commit to achieving the results you want in your personal and business life by working with a coach.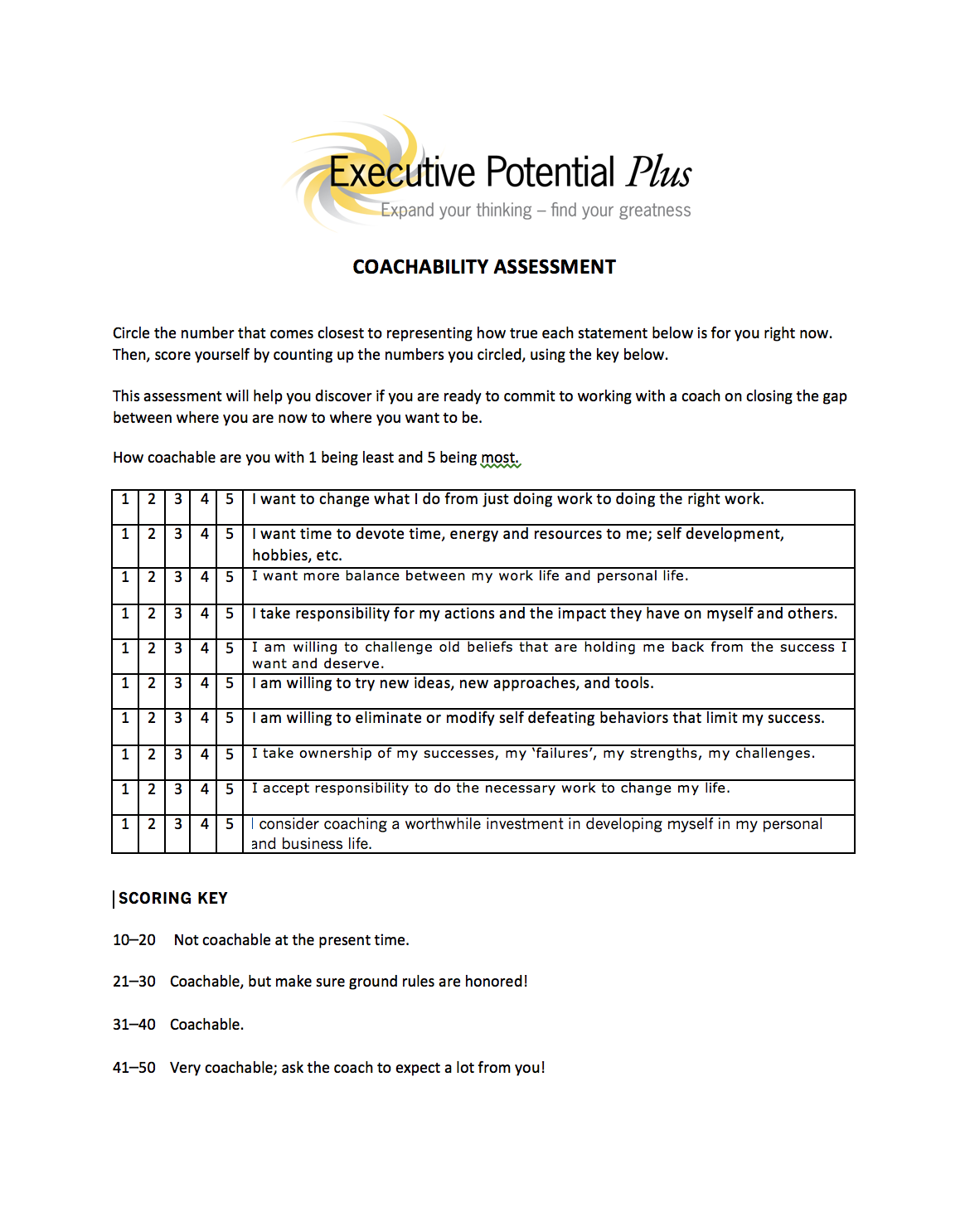 I have been very fortunate to work with many amazing clients, who want to expand their possibilities, achieve results, and believe work should flow out of their life, rather than be their life!